HawaExpo 2023
February 22 @ 8:00 am

-

February 25 @ 5:00 pm
HawaExpo 2023
HawaExpo 2023 – Growth Through Diversification
Following nearly 15 years of the collaboration between Handicraft and Wood Industry Association of Ho Chi Minh City and Ho Chi Minh City's Department of Industry and Trade in organizing the export fairs and trade promotion activities for the furniture industry, we will continue to co-organize HO CHI MINH EXPORT FURNITURE FAIR 2023 – HawaExpo 2023, as a game-changing show with its diversification and integrity.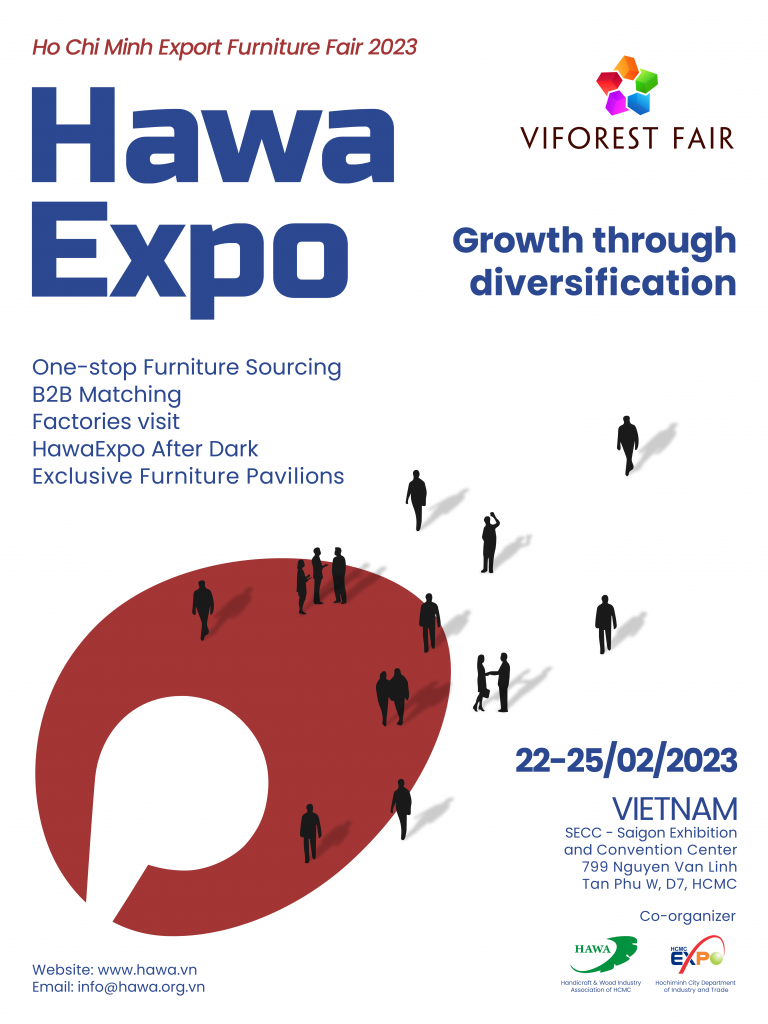 With the theme "Growth Through Diversification", the show is to strengthen the diversification of the furniture industry and enhance the strength of local manufacturers, which are:
Promise to be a hugely exciting "One-stop" furniture sourcing show, to promote the strength of local manufacturers and meet the needs of the industrial chain with high-quality supply need
Expose the featured products at the distinctive zones: ASEAN Furniture, Designed by Vietnam Pavilion, Acacia Pavilion
Be a significant part in furniture fair chain of the ASEAN Furniture Industry Council (AFIC)'s members, HawaExpo 2023 will be introduced in Vietnam as a first mover which the next ones will be Malaysia, Indonesia, China… to welcome international buyers at the peak of 2023's furniture sourcing season in South East Asia
Emphasized Ho Chi Minh City, the Southern key economic zone and surrounded by 600+ furniture manufacturers, whereby furniture professionals meet and make meaningful connections with the individuals, contributing to their career success
There will be strong connections between buyers and exhibitors through a never-ending set of effective connectivity activities:
One stop Furniture sourcing: on Feb 22-25 with key product displays in many sectors, markets and segments
Business matching: at B2B zone with organizer's arrangement throughout the show
Factory visits: on Feb 26-28 after finishing the show. The objective is to create a chance and connect manufacturers and buyers by visiting factories in HCMC and its vicinity
Virtual exhibition on HOPE: to approach international buyers. The mini-site on Hopefairs.com will extend 3 months to support exhibitors approaching international buyers not coming to the physical fair
HawaExpo 2023 also offers more in-depth assistance to visitors through initiatives:
OSB – Organizer Support Buyer:

HawaExpo After Dark: showroom visits, cultural exploration, business networking or even more
Buyer Hospitality Service: Service supports buyers such as hotels, restaurants, tourist destinations and other cultural tourism activities
OSE – Organizer Support Exhibitor:

Training courses: booth arrangements according to sectors, how to B2B matching effectively

Promotion activities: coordinate with exhibitors to promote activities to potential buyers through email marketing campaigns, e-newsletters, social media…
Side events: variety of specialized workshops to update information about trending topics such as ESG, greenhouse reduction, recycled
This will be the only Ho Chi Minh Export Furniture Fair organized by HAWA in 2023. The HAWA Executive Board will fulfill its mission to serve the industry by maximizing its core role in the following areas: organizing and exploiting all support resources from the Government, Agencies; connecting the global network of buyers; diversifying business support activities from online to offline in order to most effectively support to exhibitors.
Related Events